Home

/

Recycling Program | My Printer Shop Canada
MyPrinterShop.ca recycles your Toner Cartridges!*
We are happy to offer a free recycling program to all our customers. It's simple, you email us, we send you a free pre-paid shipping label and your used toner cartridges are sent to a specialized recycling facility to keep the cartridges out of landfills. All this to ensure the greenest practices which are free to use & have a "zero-landfill" policy. At MyPrinterShop.ca we promote sustainability, green practice and zero-landfill initiative.
Please note: We ask our customers to save a minimum of 10 cartridges before requesting a shipping label.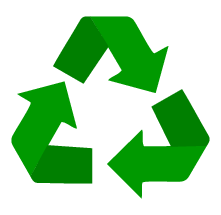 How to recycle Toner Cartridges
Collect a minimum of 10 used toner cartridges
Package your cartridges securely in a suitable box.
Request a free pre-paid return label by email support@myprintershop.ca
Affix the labels to the outside of your packaging and drop off at the post office.
Congratulations, you've kept cartridges away from landfills and helped us save the planet one toner at a time!
*At the moment, we cannot recycle inkjet cartridges. We are sorry for the inconvenience. We will remedy the situation as quickly as possible.